Book Your Next Event at Brandon House!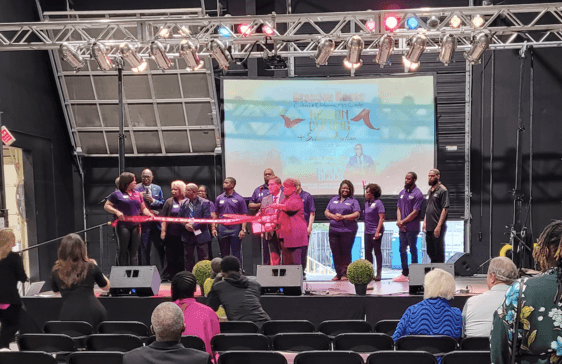 Hats off to the Board of Directors, staff, parents and students for celebrating one year in West Little Rock (WLR).  After five years serving over 6,756 youth and families in the Midtown location, on October 1, 2021, Brandon House expanded into 16,600 square feet of space in Bowman Plaza II.  The Little Rock Chamber of Commerce hosted the Ribbon Cutting Ceremony and Silent Auction g on Thursday, May 5th, 2022 with over 200 individuals in attendance.  Mayor Frank Scott provided the welcome.
---
Brandon House's expanded space has three separate suites. BH Productions, located in Suite 6600 has an established production space that houses the audioand music production lab equipped with technology for youth to be engaged in hands-on work experience in recording; sound design for mixing and mastering; producing albums and music CDs; animation for youth to performing coding to create and develop electronic video games and animation; private music rehearsal suites for youth to practice vocal lessons and voice overs; a photography lab for youth to learn how to create and produce still photos; videography lab for youth to have hands on skills in video production, filming of documentaries and films; and an interview space for youth to have hands on experience in creating podcasts.
Suite 6400 houses the administrative offices and the media technology lab sponsored by AT&T Foundation that doubles as a classroom to offer an educational learning environment with the goal to close the achievement gap  through state-of-the-art equipment and software.
Suite 1000 is home to Brandon House's Event Center.  The event center encompasses the Stuart Mackey Conference Room which can seat up to 12 and be converted into a multipurpose room, as the conference tables are modular and can be moved out of the space.  The multi-use Expressive Art Gallery sponsored by Windgate Foundation is open to aspiring visual artists to display their art pieces in their own community.  The Expressive Art Gallery is ideal for staging press conferences, registration activities and small receptions and can be used for pre-event gatherings, exhibits, cocktail receptions or silent auctions.   The event center is also  home to the Brilliant Art Xposed (B.A.X.) Theater which seats approximately 200 guests and includes in-house production.  The theater has versatile seating capacity for classroom and banquet configurations designed for weddings, expos, birthdays and other celebrations.  Complete with a state-of-the-art stage and lightening, The B.A.X. Theater is designed as a  community theater and performing arts venue where youth and aspiring actors/actresses can perform in front of a live audience.  Finally, Brandon House's Art Lab is the perfect space to host small art and textile classes seating five individuals  and one instructor.
For more information and a tour of Brandon House expanded facilities,  contact Jennifer Jones today at 501-725-5757 ext. 102.