---
Arts Over Tobacco is a tobacco prevention program funded by the Minority Initiative Sub-Recipient Grant Office at the University of Arkansas Pine Bluff in effort to provide youth and young adults with alternatives to tobacco use and unhealthy behaviors. Our charge with Arts Over Tobacco is to share opportunities, resources, and support with youth and young adults to overcome any pressures or desires to use tobacco and other drugs and encourage them to participate in creative and performing arts activities as alternatives. Arts Over Tobacco will train youth and young adults to produce multimedia messages by creating music videos, songs, drama skits and more that raises awareness about the issues of tobacco use in our communities. Brandon House will also conduct panel discussions, educational presentations, and roundtable activities to educate and mobilize minority communities in Faulkner, Garland, Hot Spring, Jefferson, Lonoke, Saline, and Pulaski County about the harmful effects of tobacco, ways to quit smoking, and opportunities to implement comprehensive smoke free policies.
Through these efforts, our hope is to build the Brandon House Street Team to be a coalition of young people who would take the reins in representing the next generation to end smoking. We work closely with Project Prevent Youth Coalition to meet this goal. If you are interested in Brandon House Street Team performing for your community event, organization, or school, please send an email to artsovertobacco@brandonhousearts.org.   Also, if you would like to know more about Brandon House Street Team, please click here.
---
Check out the Don't Want No Smoke video located on the Brandon House YouTube page.
---
Fact Sheet
ILLNESSES Ugly Truth: 68,000 youth age 17 and under who are alive today in Arkansas are projected to die as adults from smoking related illness. What are some of these illnesses? 
When people smoke, what parts of their body are affected?

Nervous System: Poor Vision, Anxiety & Irritation, Mood Stimulation
 Circulatory System: Blood cancer, blood clotting o Immune System: Higher risk in fighting off illnesses or diseases
 Digestive System: Loss of appetite o Endocrine System: Wrinkly Skin, Yellow Fingers, Constricted Blood Vessels, Diabetes 
 Muscular System: Heart Disease o Respiratory System: Bronchitis, Lung Cancer o Reproductive System: infertility, problems with pregnancy and newborns, erectile dysfunction
---
CHEMICALS Ugly Truth: There are approximately 600 ingredients in cigarettes. When burned, they create more than 7,000 chemicals. At least 69 of these chemicals are known to cause cancer, and many are poisonous. 
---
 TYPES OF TOBACCO PRODUCTS Ugly Truth: To attract users, tobacco companies (also known as Big Tobacco) regularly modify their products and introduce novel tobacco products to the market, including adding "flavor" to products. In 2014, 73% of high school students and 56% of middle school students who used tobacco products in the last 30 days reported using a flavored tobacco product.
---
WHAT TO DO NOW! Ugly Truth: Big Tobacco has a market priority: the people you want to focus on to buy your product, which are Minorities, Youth, Blacks, Military. But YOU ARE IN CONTROL! Below are things you can do:
Use Your Knowledge and Say No! - It really is that simple. 
Find Your Talent – Discover what you can do well, and invest your healthy and energy into that talent.
---
Did You Know?
Did you know that over 10.7 million youth aged 12–17 are at-risk for using e-cigarettes?
Did you know there's an online Black Market for e-cigarette products that youth have access to because there are weak security check points for them to purchase?
Did you know data released by the CDC on December 3,2019 showed that e-cigarette use has increased 80% in the last year. Arkansas's rate of e-cigarette use by high school students was 13.7% in 2017 and is estimated to approach the national rate of 20.8% in 2018?
Did you know that Campaign for Tobacco Free Kids reports that 69,000 youth under 18 and alive in Arkansas who will ultimately die prematurely from smoking.
Did you know  that SMOKING kills more people than alcohol, AIDS, car crashes, illegal drugs, murders, and suicides combined — and thousands more die from other tobacco-related causes — such as fires caused by smoking (more than 1,000 deaths/year nationwide) and smokeless tobacco use.
---
Dangers of Vaping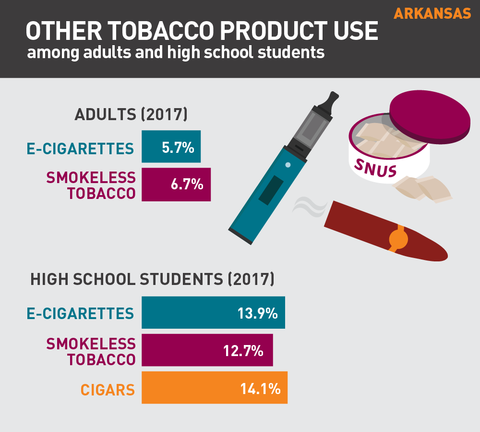 The Arkansas Department of Health is warning Arkansans who use an electronic smoking device, e-cigarette, or vape about the risk of a potential lung illness. Further investigation is ongoing to determine the possible cause of the illnesses.
| Opinion | | Facts |
| --- | --- | --- |
| Many teens believe that vaping is less harmful than smoking. | | Certain products emit very low amounts of aerosol or "vapor," which makes them easier to use discreetly than combustible cigarettes. Most e-cigarettes contain nicotine, the same highly addictive drug in cigarettes. Some e-cigarettes may contain as much nicotine as a pack of 20 regular cigarettes. |
| | | |
| E-cigarettes have a lower per-use cost than traditional cigarettes. | | Cheaper to purchase, more expensive health costs. |
| | | |
| Vape cartridges are often formulated with flavorings such as apple pie and watermelon that appeal to younger users. | | Marketing tactic from Big Tobacco Products, Vapes get their flavors from chemicals. While these flavorings are safe to eat in food, they're not safe to inhale. Inhaling flavor chemicals can harm your lungs. Some buttery-flavored vapes like caramel contain diacetyl 7and acetoin. Inhaling diacetyl has been linked to popcorn lung, a lung disease that doesn't have a cure. |
| | | |
---
Arts over Tobacco worked with Street Team and iHustle to participate in the Tobacco Prevention Contest, Ready.Set. Record Contest. Project Prevent Arkansas sponsors Ready. Set. Record Contest. Contestants have to create 30 second video discussing the dangers of tobacco, nicotine, and/or e-cigarettes. Also, the contestants can discuss about living tobacco free and can encourage others to do the same. Street Team and iHustle created a 30 second video on Tobacco Prevention. The video is posted on Brandon House YouTube Channel. Go check it out!
---
Prevention Practices
It is a misconception that addressing the vaping epidemic is solely through research and education. Well, that may work with adults – because we're under the impression that if you know better, you do better. For youth, we have to have a more hands-on approach – the mindset that if they DO better, then they will BE better.  This is a generation where you have to provide an Alternative!!! You can't just take things away. I think the millennials and older generation are used to a PUNITIVE APPROACH TO MANAGING BEHAVIOR. Most youth are expected to sit down, shut up, and be still, for the majority of their learning experiences during the school day, but their brains are not stimulated by such expectations.
So we have to first address the WHY do youth smoke, and then create alternatives to behaviors that address the why.
---
Truth Initiative – which is a national organization that campaigns to inspire tobacco free lives, did a survey in 2016 to ask youth why they use e-cigarettes. Below are strategies that can help youth stay Tobacco Free. 
Connection – Positive Role Models, and healthy connections with other students (forming coalitions – Project Prevent Youth Coalition)
Act Out! – Provide students with a chance to express themselves with their talent.
Make them responsible for developing positive messages.
Put them in front of other youth.
Reward them – feed them – provide them with the resources that they think they want from the nicotine. Have candy. hygiene products. school supplies, and food. 
Plan social events that don't require them to "work" – Cohesions
Build their trust and then Hold them accountable.
---
Click here to check out the rest of this dynamic playlist!