Summer Experience for Teens Begins MONDAY, JUNE 13th! 
Join us at 10am at our West Little Rock Location at 10am - 4pm. 12120 Colonel Glenn Rd., Plaza II, Suite 6400, Little Rock, AR 72210. The summer experience is for ages 12 - 18. No matter what program you sign up for within the Summer Experience, we will have an entire experience designed for you! Each student must be enrolled using the Brandon House Enrollment form (there is also a link after the description of the programs), and indicate Summer Experience 2022 on the enrollment form - even if the interest is in specific programs within the Summer Experience.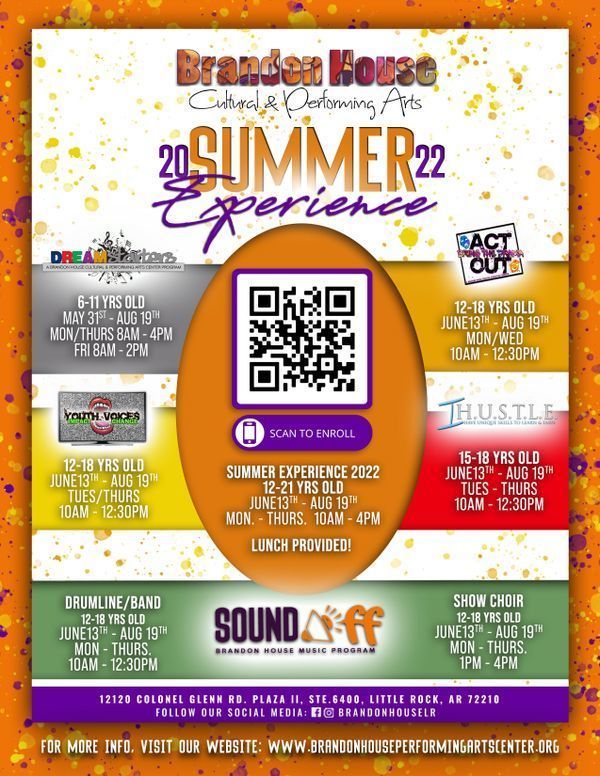 DreamStarters
---
DreamStarters serves children ages 6 - 11 years old. The program meets on Monday - Thursday, 8am - 4pm, and Friday 8am - 2pm. Friday is "Fun Day" and will consists of field trips for students who are eligible based on their behavior and performance throughout the week. There is currently a waitlist for the DreamStarters Program. If you wish to enroll your student please complete the Enrollment Form, City of Little Rock enrollment form (emailed after the BH Enrollment Form is submitted), and the following two assessments: 
Parental Involvement Report Card: https://www.surveymonkey.com/r/XK5CGFF
Brandon House's Parent & Family Needs Assessment: https://www.surveymonkey.com/r/X8Y76PZ
iH.U.S.T.L.E. 
---
iH.U.S.T.L.E. serves high school students and is designed to cultivate employability skills of highly underserved high school students by providing practical workplace experiences related to audio/music production, photography, videography, graphic designs, and creative and performing arts.  Activities in this program uses technology including audio, music and production where students work in a studio setting to gain experiential hands-on learning experiences. 
Act Out: Bring the Drama
---
Act Out is designed to demonstrate the skills learned in Act Out, connect the artistic skills of youth to build character skills and healthier lifestyle choices, build confidence, and use practiced skills to produce a major theater or musical production. The goal ofo this program is to teach youth how to channel negative energy into a positive direction. This program serves youth ages 12 - 18. 
YVIC 
---
Youth Voices Impact Change is a unique program that serves youth ages 12 - 15, and the purpose of this program is to empower youth to utilize self-expression, artistic exposure, shared experiences, creative solutions, and guided instruction to support their development in addressing problems and issues in their communities. 
Sound Off Music Program 
---
This is a newly designed program for youth ages 12 - 18 and is comprised of two components: Percussion Band & Show Choir. The marching percussion band, also know as show style band, is designed for playing percussion instruments while in motion. The combination of  high step, movement, choreography and Pom Pom squad will resemble the marching style made popular by many Historically Black Colleges and Universities marching. A show choir is a musical ensemble that combines singing and choreography. This type of ensemble is also know as "glee club" at some institutions. 
Creative Expression Majorette Dance Team!
Summer Conditioning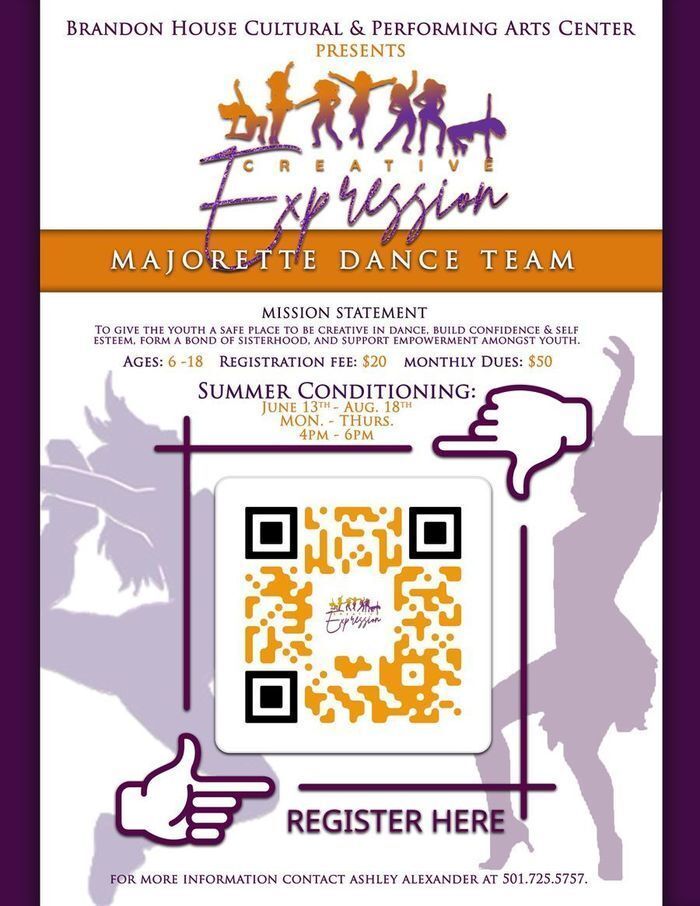 Creative Expression Majorette Dance Team is a competition team that is designed to build confidence, courage and self esteem within youth who are committed and interested in all forms of dance. We are dedicated to molding, empowering, protecting, mentoring and coaching our youth. There is a registration fee of $20, and a monthly fee of $50 to continue participation. If you (or your child) is interested, you must complete the registration form (see below), pay the registration fee (click here to pay), and complete the Brandon House enrollment form.