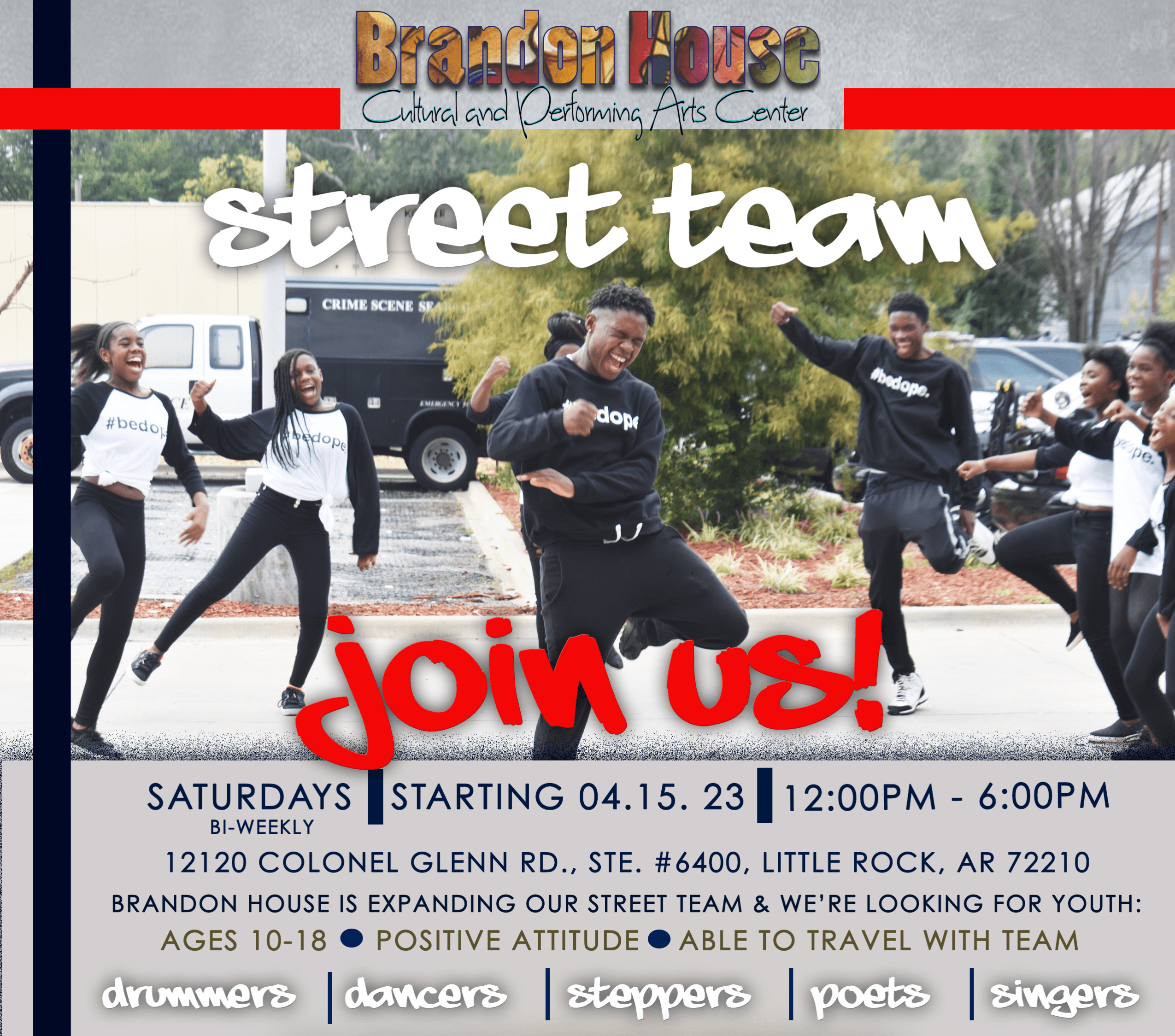 Brandon House Street Team is gearing up for a full season of performances. The vision of the Street Team is to have an eclectic squad of young talented individuals who are ready to empower other young people to cultivate their talents, live tobacco free, and spread positive vibes. Requirements to Participate on Brandon House Street Team:
Must be Smoke Free.
Attend scheduled practices (locations and times may vary)
Must have access to a phone for phone conferences held each month.
Must be at least 10 years of age (or in 6th grade).
Must be a team player; must be able to work with others.
Will be responsible for recruiting and training at least 1 new member throughout the year.
Must be dedicated and committed to the program as well as each other.
Must be on time to all regularly scheduled meetings and events.
Must be supportive of team and events that take place.
---
MEMBERSHIP ROLES
Members of the Brandon House Street Team will take on leadership roles to learn personal and professional skills that will ultimately serve them well in their future. The Street Team will work closely with our Arts Over Tobacco (AOT) Program to ensure that Brandon House is meeting the mission of providing alternatives to tobacco use for youth. Below are the leadership roles.
Street Team Membership Coordinator (Members)
The Street Team Manager is responsible for keeping up with the members who join the team. Each team member needs to complete a Brandon House form, and AOT PPYC form that gives parent permission to participate. Street Team Manager is responsible for contacting members in preparation for activities and events.
Street Team Manager (Activities)
The Street Team Manager is responsible for managing movement and progress of activity of the team. The manager will work closely with Director of Programs to keep up with dates of performances, rehearsals, deadlines of activities, and communicate the needs of the team.
Street Team Choreographer (Performances)
The Street Team Choreographer is responsible for coordinating the choreographic movement of the team for each performance. The Choreographer will be responsible for infusing multiple art forms into each performance.
Street Team Marketing Coordinator (Social Media)
The Street Team Marketing Coordinator is responsible for keeping all social media platforms updated with footage and images of activities as well as forming positive messages about upcoming events and initiatives.
Street Team Fashion Designer (Uniforms)
The Street Team Fashion Designer is responsible for coordinating the style of each performance. The Fashion Designer must submit any ideas of new uniforms along with a budget if there are any purchases that need to be made.
Street Team Videographer (Video Taping)
The Street Team Videographer is responsible for recording rehearsals, performances, and interactions captured during activities. The Videographer will assist in managing Brandon House YouTube Page and work closely with Marketing Coordinator.
Street Team Photographer (Taking Pictures)
The Street Team Photographer is responsible for capturing member interactions at rehearsals, performances, events and activities. The photographer will assist Marketing Coordinator with uploading images to social media.
---
REHEARSAL & PERFORMANCE SCHEDULE
Brandon House Street Team practices every other Saturday at our Midtown Little Rock location, 3802 w. 12th Street, Little Rock, AR. Rehearsals take place from 1:00pm - 4:00pm. 
Click the link below to enroll.