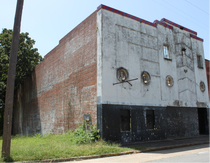 Brandon House Cultural & Performing Arts Center's Creative Arts on the Move Program is a way to utilize creative placemaking as a neighborhood revitalization strategy to identify abandoned buildings, public spaces, and vacant lots that have suffered from years of distress and turn these spaces or buildings into thriving creative arts facilities to bring arts and culture that will animate the community with activities and performance spaces.
Brandon House Cultural & Performing Arts Center has partnered with Better Community Development (BCD), Inc. to restore and rehabilitate the Lee Theater, an endangered property at 3819 West 13th Street in the Highland Park community, Little Rock, Arkansas.  The Lee Theater was built in 1920 and is still one of three former theaters remaining in Little Rock and is the only theater that was built before WWII.  On May 14, 2015, the Lee Theater was one of eight properties placed on the list of Arkansas endangered properties by the Historic Preservation Alliance of Arkansas and in May, 2016, BCD and Brandon House worked to get the Lee Theater placed on the Arkansas Register of Historic places.
BCD, Inc. and Brandon House have plans to restore the theater to its original interior and exterior design so that the theater can become a viable and active community theater. BCD, Inc. is hoping to get the Lee Theater nominated on the national register of historic sites for the theater to be on the list of touring sites in Little Rock.  Once the Lee Theater is restored, BCD, Inc. has asked the Brandon House Cultural & Performing Arts Center to program the theater for community use of plays, musicals and performances.
We are seeking financial support to restore the theater, buy stage equipment, and purchase theater seats.
Please go to our donate link to offer your tax-deductible contribution.  Your support is greatly appreciated to help us restore the "soul" into the community.