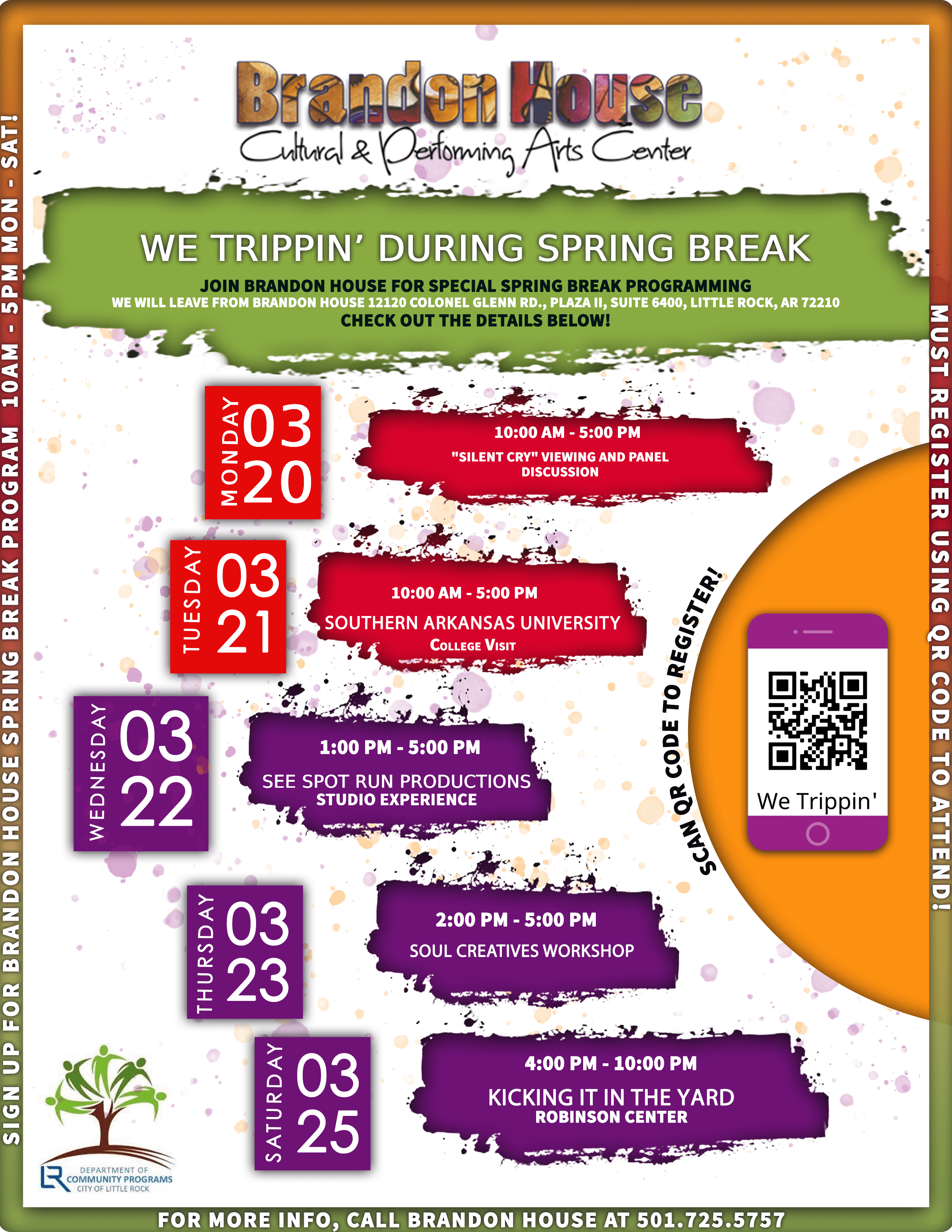 Monday
March 20th, 10 am - 5 pm
Silent Cry Filmmaking Workshop. 

Brandon House, in partnership with the Terrance Richardson Dream.Believe.Work. [T Rich Foundation], will host a Film Workshop and Movie Matinee to premier the film Silent Cry on Monday, March 20, 2023.  The film workshop will start at 10:00 am and will end around 2:30 p.m.  The film workshop will be held in Brandon House's Brilliant Art Xposed Theater, Event Center, 12120 Colonel Glenn Road - Suite 1000.  
LUNCH and Refreshments will be provided. 
Tuesday
March 21st, 10 am - 5 pm 
College Visit to Southern Arkansas University
Established in 1909, SAU has built on its dedication to student achievement and continues to grow, both on campus and online, with more than 80 degrees in four distinct colleges and the School of Graduate Studies. AU is a quality, comprehensive, regional University expanding accessible and transformational learning experiences.
Lunch will be served on campus.  
Wednesday
March 22nd, 10 am - 5 pm 
See. Spot. Run. Studio Experience. 
See Spot Run Productions is a full-service production studio in Little Rock, Arkansas, Traveling near and far, offering studio and on-site production services, including but not limited to video, radio, and television commercials, social media, animation, shooting, editing, photography, and more. 
Thursday
March 23rd, 2 pm - 5 pm 
Soul Creatives Workshop
Spring break is here! Make the most of your time off by learning to create and share music, art, and videos with Big Piph, Sean Fresh, Dazz, and Rah Howard from Soul Creatives Workshop. Join us at the Hillary Rodham Clinton Children's Library on March 23rd. FREE for all students in grades 6 thru 12.
Saturday
March 25th, 4:00 pm - 10:00 pm
Kicking It In The Yard: The Musical
Play Synopsis: We are thrilled to announce the play "Kicking it on the Yard" by Comedian Nate William. The stage play will introduce the UAPB band to the stage and more. Live singing and dancing that will have you rooting for more! The four guys attend college for different reasons and make a decision to join a fraternity. They have a few obstacles to jump over before crossing the burning sands. Relationships, Frat brothers, and love, and with plenty of things on their plate, how will they overcome it all?

Funded in part by the  City of LR Dept of Community Programs