We have raised
$85,715.00
of our
$2,500,000.00
goal.
The mission of Brandon House Cultural & Performing Arts Center (referred to as Brandon House hereafter) is transforming lives through creative and performing arts! Brandon House is an urban community-based multi-discipline, multicultural center that supports the efforts of school districts, faith-based and community organizations, and other arts and cultural groups through arts-based programming. Students and families enrolled in Brandon House programs represent extreme multi-generational poverty, low educational attainment, and high unemployment rates. Many of our programs are focused on empowering youth to discover their skills and talents to ultimately generate their own revenue.

With partnerships and funding supported by City of Little Rock, Arkansas Arts Council, Arkansas Department of Education 21st Century Community Learning Centers, Little Rock School District, UAPB Minority Initiative Subrecipient Grant Office (MISRGO), United Way, Arkansas Community Foundation, Dollar General, and other private funders, we have been able to offer out-of-school time and summer programming to Little Rock youth and residents (and 6 other Arkansas counties). Since its inception, Brandon House has served over 6,756 youth and families, serving over 537 youth in 2019.

There are three phases of our programming: Phase I: Creative Education Programs, Phase II: Creative Career and Technical Education & Workforce Development, and Phase III: Performing Arts Community Events/Live Entertainment. We have successfully rolled out the creative education programs for the past 4 years, and we are now looking to expand as we build a Creative Career and Workforce Development Center. We have identified a new location (4520 S. University Avenue, Little Rock, AR 72204) and have developed new programs, events, and projected revenue plans for this space. The purpose of the capital campaign is to raise $2.5 million dollars to repurpose and renovate a facility into a state of the art career and workforce development center that will support the creative talents of artists and musicians and strengthen the career and technical skills of underrepresented youth who are the next generation workforce.
Future Building and Expenses
MEETING THE COMMUNITY NEEDS
Brandon House realizes that technology has redefined performing arts, arts integration, and arts education in the 21st century, with technology influencing the way youth learn, artists create, and organizations operate. Youth, young adults, creative professionals, and community residents who are equipped with 21st century skills are better positioned to address problems in their communities and advance their careers.  Brandon House's programs support the development of skills in creativity, critical thinking, communication, collaboration, initiative, accountability, responsibility, flexibility, adaptability, and self-direction under 3 program pillars: Creative Education Programs, Creative Career & Workforce Development, and Live Entertainment & Performing Arts.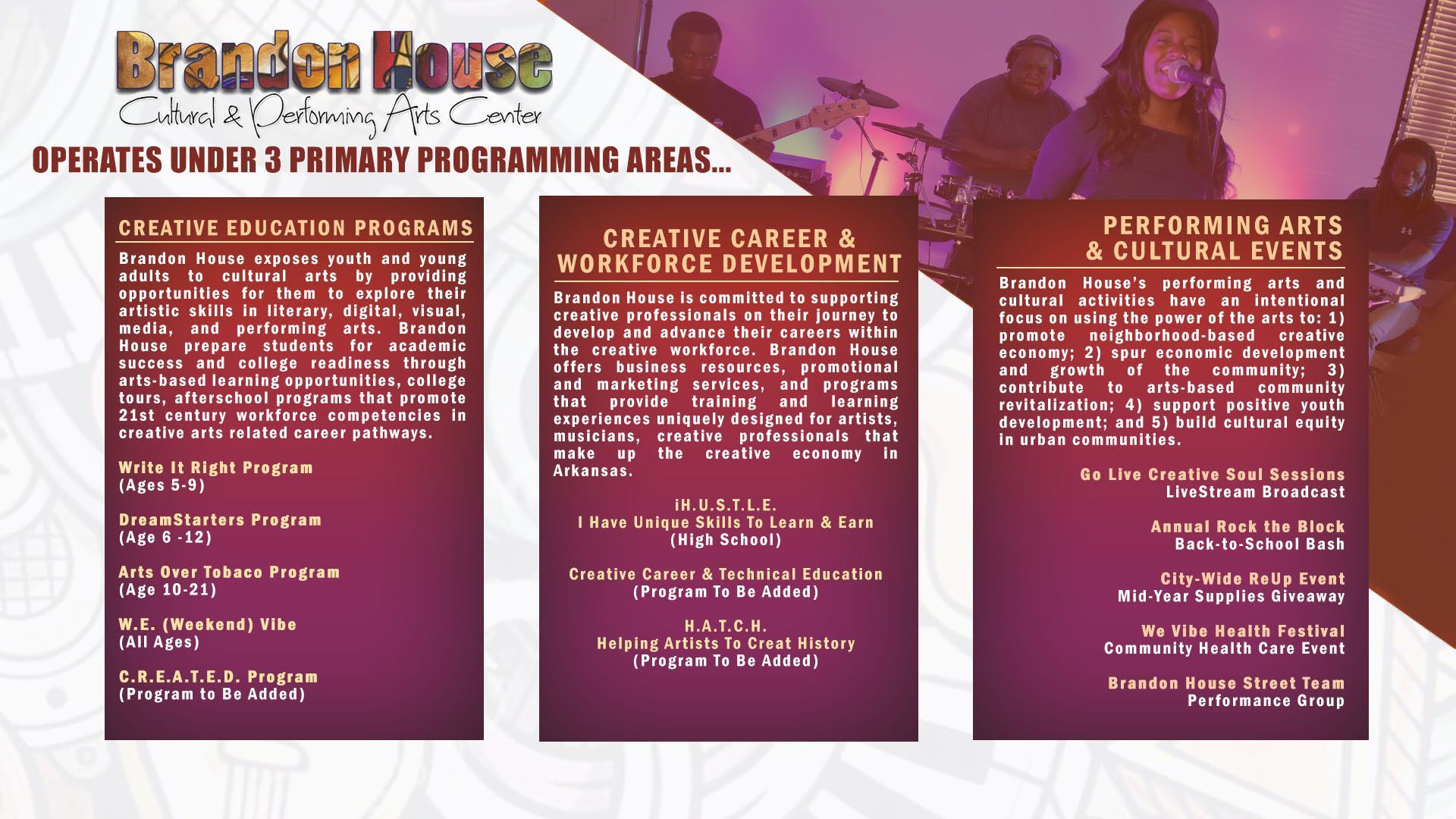 Now, more than ever, our youth need opportunities that encourage, inspire and engage them through expressive arts activities. The renovated and expanded Brandon House facility will provide opportunities for youth who need access to programs to help them deal with the stresses and challenges presented by the COVID-19 pandemic.
WHAT'S MISSING? PROGRAMMATIC CAPACITY

Brandon House has grown steadily over the past five years thanks to the successful results of our program team, increased enrollment, sound board of directors and administrative leadership, and fiscal management; but we have reached capacity to meet the needs of the youth and creative professionals due to: 

Lack of creative space: Currently Brandon House is housed in a 2-classroom facility on the 12th Street Corridor in the Midtown community that encompasses only 1,748 square feet; and our existing facility can no longer support the arts-based needs of our youth, young adults, artists, creators, and musicians.

Scattered programming: Using different sites scattered around the Little Rock area makes it difficult to systematically address the unmet arts-based needs of current and additional youth.

Lack of state of the art production studios & Technology labs: There is a need for a space that is fully-equipped with technology labs that promote quality 21st century arts-based workforce training for underrepresented youth and young adults and offer business services, resources and support services for creative professionals.

Lack of art studio and art gallery: for youth and artists to display their artwork in their own communities. 
DEFINING THE FUTURE OF BRANDON HOUSE:
CREATING A TRAINED DIVERSE WORKFORCE
The desired facility has 23,880 square feet of space, and is the former ITT Technology Institute at 4520 South University Avenue, Little Rock, AR. The building located in Ward 7 in the UALR University District is most suitable for administrative space, production studios, media technology labs, art studio, art gallery, and theater and performance spaces. The renovated facility will: (1) enable Brandon House to address gaps in arts-based services, offer 21st century workforce training; and house small business incubation services and resources to small arts-based businesses; (2) increase its target audience and capacity by serving over 3,000 potential constituents annually of underserved and underrepresented students, aspiring artists, creative professionals, and musicians. Expansion will allow for greater investment in a prepared workforce among the next generation of creative professionals, artists and musicians through added programs and opportunities as a result of accomplishing objectives in the following expansion phases:
Phase I: Roof repair on southeast corner of building and addition of staff restroom.
Phase II: Renovate and repurpose the space into music and audio production studios, private rehearsal spaces, arts education classrooms, administrative offices, media technology labs, an art studio and gallery, artists' workspace, and spaces for additional earned income.  
Phase III: Expand and renovate the space to include a theater and performing arts center.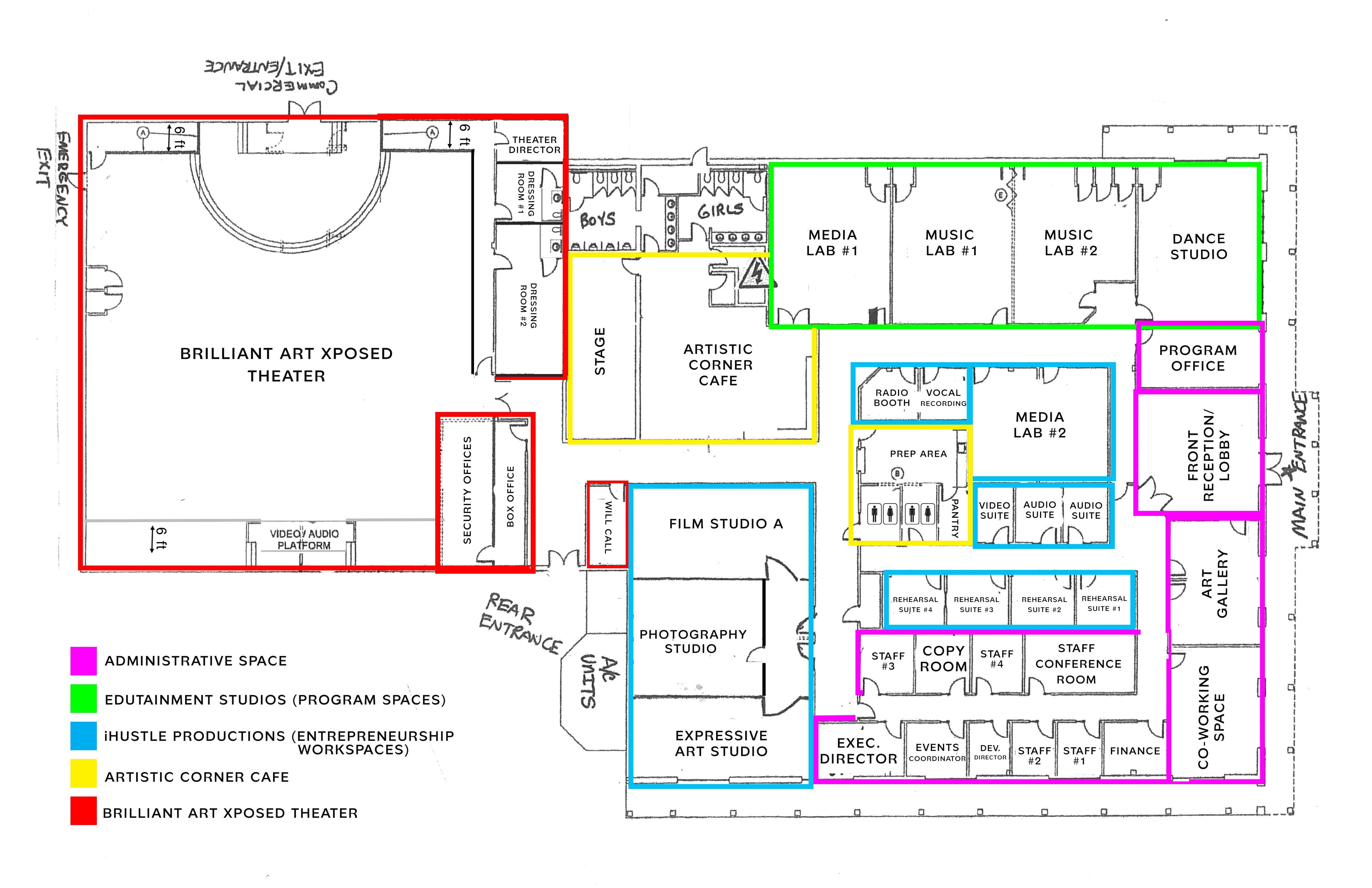 IMPACTING THE NEXT GENERATION OF ARTISTS
Due to the significant impact that technology has on the arts, it is our hope that the future holds much more for Brandon House than simply securing a building, expanding creative arts programming, or creating statewide partnerships. The future of Little Rock and the entire state requires the next generation to be well-equipped to succeed as entrepreneurs, community leaders, and productive citizens. We expect Brandon House's new Creative Career & Workforce Development Center to serve as a best practice creative arts education and creative career training model for other organizations that serve low-income urban underrepresented populations. This new facility will allow Brandon House to impact the next generation of creative professionals through 21st century arts-based workforce development. JOIN US to make quality artistic experiences, training, and support readily available by Raising the Bar for the Arts!
BECOME A SUPPORTER