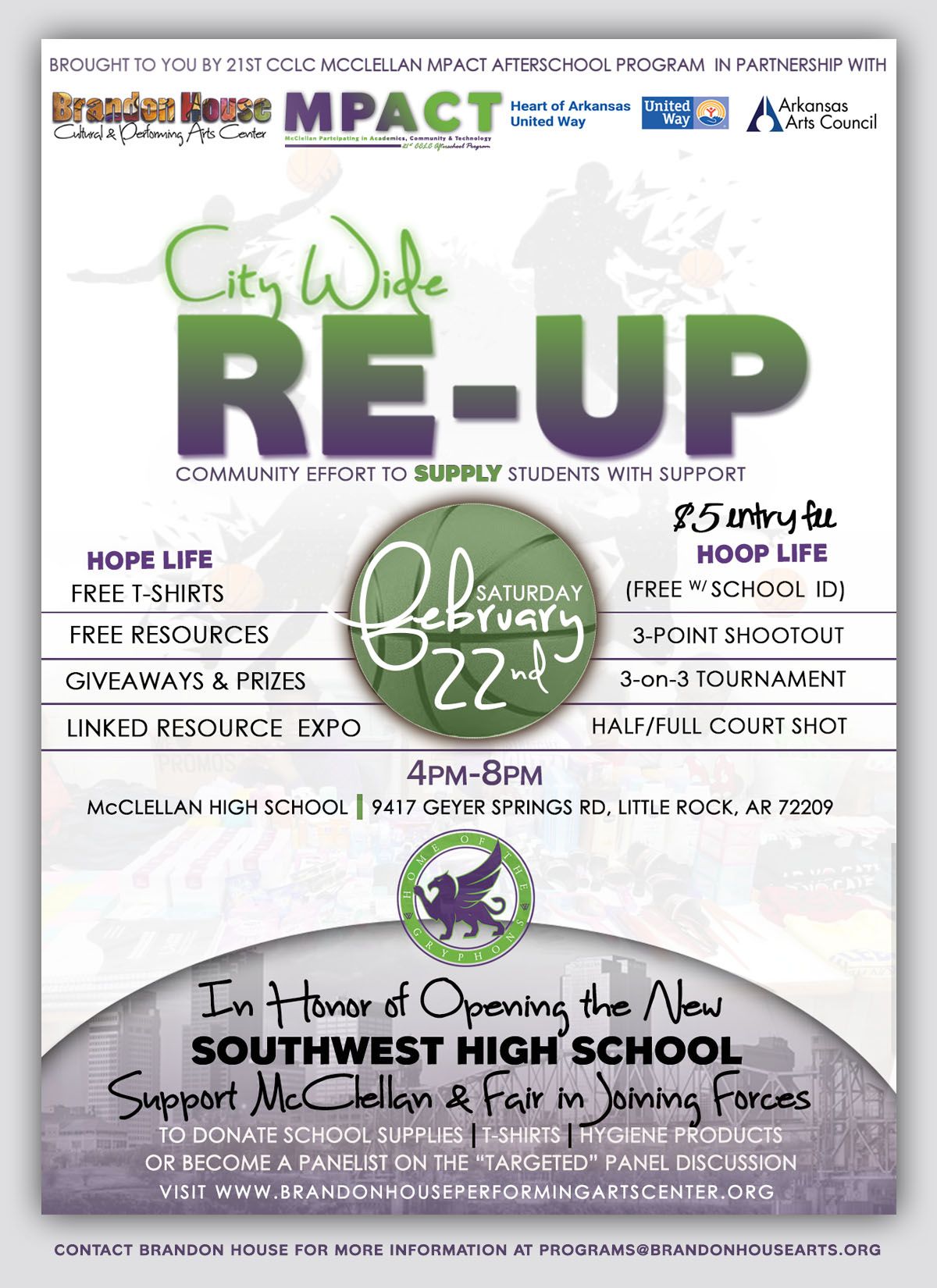 Through the 21st CCLC MPACT Afterschool Program at McClellan High School, Brandon House is working with iHUSTLE students to host the 3rd Annual City Wide Re-Up on Saturday, February 22, 2020 at McClellan High School (9417 Geyer Springs Road, Little Rock, AR 72209). This is a community event that targets ALL high school students residing in Little Rock who will benefit from restocking their school supplies, personal products, community support services, and other helpful resources to support a positive performance for the remaining 2019-2020 academic year. 
During the ReUp, students will get a chance to receive necessary resources or assistance in areas such as academic readiness, college readiness, and workforce and job readiness during the "Linked" Expo. Following the Linked Expo, students will be engaged in a panel discussion entitled "Targeted" to address topics and share suggestions about how young minority students can respond to negative influences and outcomes that target their community, all before competing in the Hoop Life Basketball Tournament. The Basketball game is $5 (free with Student ID). 
Click here to learn more and get involved
---

The mission of Brandon House is transforming lives through creative and performing arts! 
Organized in 2014, Brandon House Cultural & Performing Arts Center is a nonprofit organization that offers innovative culturally-relevant arts-based experiential learning experiences, leadership opportunities in various creative and performing arts, as well as creative career and technical education. The goals of Brandon House programs are to expose urban youth and young adults to cultural arts; provide opportunities for youth to explore their artistic skills in literary, digital, visual, media, and performing arts; prepare students for academic success and college readiness through arts-based learning opportunities, college tours, afterschool programs, and promote 21st century workforce competencies in creative arts related career pathways.
Brandon House's programs promote a variety of creative and performing arts activities through music, dance, stage performances, poetry slams, comedy, arts education, and commissioned art work which are accessible to diverse audiences. 
We believe our community is enhanced through the arts and encourage you to get involved . Check out our educational opportunities and upcoming events. Want to volunteer your talents? There's an opportunity to match your skills. Learn more and get involved.
Brandon House Programs are designed to connect youth and young adults with creative and performing arts experiences to build life skills, resilience, and employment opportunities. Check out our programs to expand your interests.
Read more.

Brandon House strives to impact the community by connecting youth with performance experiences! Check out our upcoming events.
Read more.
See Our Captured Experiences...