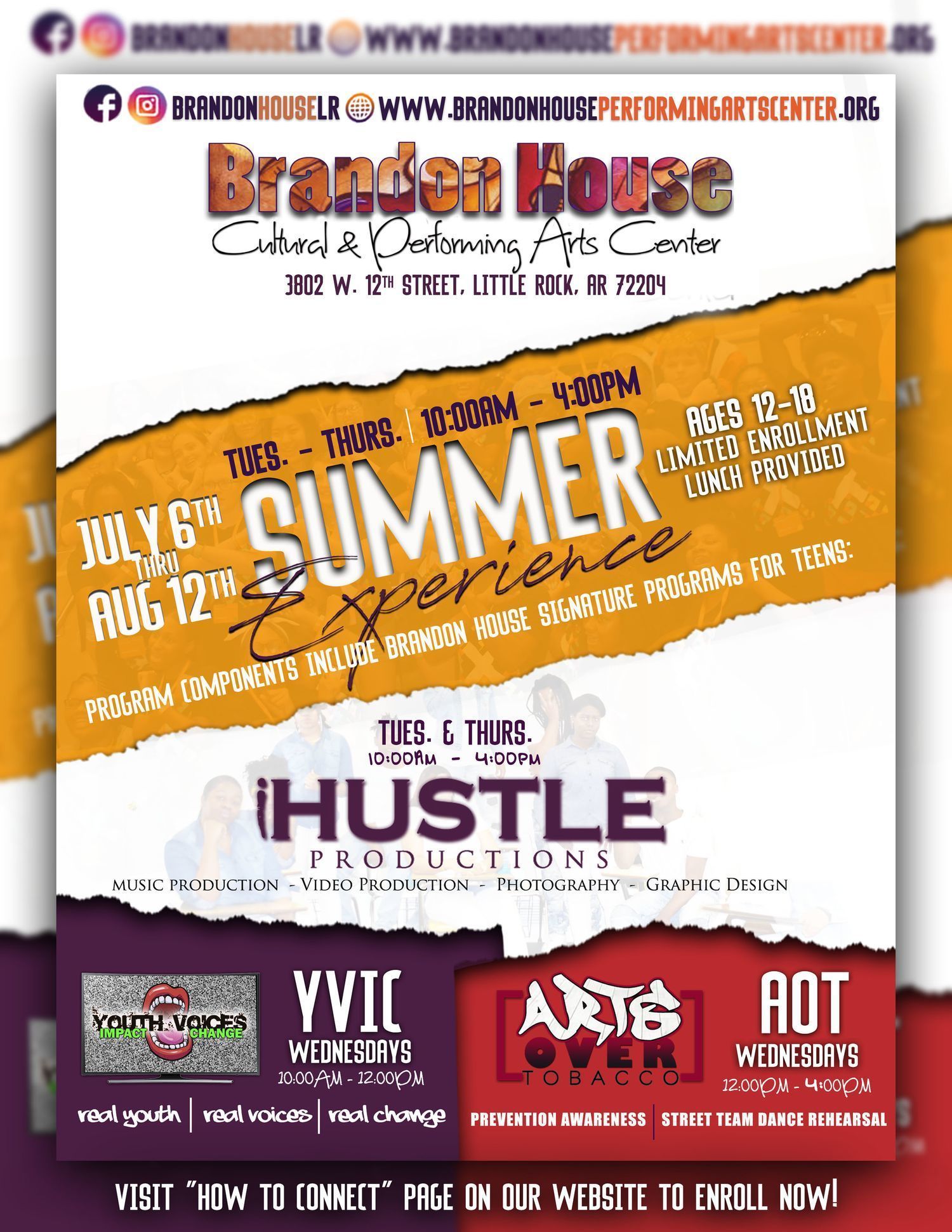 iH.U.S.T.L.E. (I Have Unique Skills To Learn & Earn) 
---
iHUSTLE is designed to cultivate employability skills of highly underserved students by providing practical workplace experiences related to music production, photography/videography, and creative and performing arts careers. At the end of the program, 98% of the individuals will demonstrate job readiness, 21st century workplace and SCANs employability skills and career competencies as demonstrated by completed Arkansas' Career Readiness Certificate in platinum, goal, silver or bronze levels through ACT Workkeys.
YOUTH VOICES IMPACT CHANGE
---
YVIC is a program designed to cultivate creative self-expressions and talents of youth to engage them in lending their voices and perspectives to community level issues that may include issues on depression, education equity, poverty, gun violence, homelessness, drug and tobacco prevention, through the development of high quality youth-produced multi-digital media and mixed artworks that impact and influence community change. The goal of the project is to empower young people to dialogue about community issues and to create and develop high quality youth-produced multimedia and mixed artworks that impact community level social change using their perspectives, creative talents, and voices through art works of photography, videography, graphic design, animation and audio music.
ARTS OVER TOBACCO/BRANDON HOUSE STEET TEAM
---
The goal of the Arts Over Tobacco prevention program is to encourage African-American and Hispanic youth of all ages to engage in more artistic and creative activities as opposed to using tobacco products. Events and activities in AOT focus on 4 primary areas: Preventing the initiation of usage of tobacco productions; Eliminating exposure to second-hand smoke; Promoting quitting amongst current users; and addressing the health disparities around tobacco. AOT is the home of the Brandon House Street Team and youth who are a part of the Street Team serve as ambassadors and performance for the talent squad.